The Swine Producer's Partner
Maximum Swine represents the new age of swine sales and marketing. We have the knowledge and skill to market swine throughout the lifecycle -- from genetics to isowean to finisher to packer.
Maximum Swine works with producers to ensure that healthy, high quality swine are bred, fed and safely shipped to market....that means maximum profits for everyone.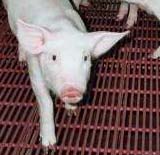 We offer producers valuable services that ensure total quality and make a big difference to the bottom line:
Feed Programs
Veterinary Consultation
Animal Health/Vaccination Programs
Efficient Transportation
Pricing
We are changing the industry by way of fair market pricing and enhanced customer service plans. We'll walk you through the latest market conditions and prove to you the Maximum Swine difference.
Payment
Producers all over North America are loyal to Maximum Swine because of fast and efficient turnaround of funds. Our word is our bond. We believe this kind of integrity is the foundation of a strong swine industry.
Animal Health & Feeding Programs
Animal Health
Maximum Swine believes that animal health -- from genetics to packer -- is the key to maximum profits for everyone. That's why we encourage our partners to make animal health their top priority.
We work with some of the most respected swine veterinarians in North America. They advise our partners and us on the most effective vaccination programs, feeding requirements, and sanitation techniques to maximize swine health at every stage.
Feeding Programs
Feeding programs specific to our customers' needs are critical to producing consistently high quality pork. Maximum Swine will assist you in developing a feeding program for your herd that will ensure the carcass merits that are preferred by packers. All this translates to maximum profits at point of sale.
Delivery Services
At Maximum Swine, we understand that you have a lot riding on our trucks. To extend our total quality approach right through our chain of service, we guarantee the following:
Our logistics department will work with you to make deliveries convenient and efficient
We will call or fax to confirm pick-up and delivery times
All of our trucks are thoroughly washed and disinfected between shipping
Should you have health concerns, we will put you in direct contact with the herd's veterinarian
We support what we promise with full documentation, including health certificates and weight cards upon request
We follow-up every delivery to ensure we have a satisfied customer